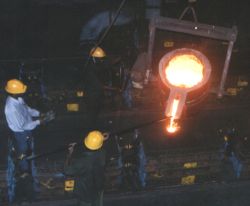 Established in 1985, Nelcast has since been a significant and diligent participant in the ferrous casting industry, producing superior quality castings for many an industry. Nelcast has shown an astounding growth rate, growing to about 150 times its original size to reach its current capacity of 150,000 MT.

Catering to the Commercial Vehicle Industry since 1985 and the Tractor industry since 1988, Nelcast has diversified into various other industries to increasingly fulfill their casting needs. Today, Nelcast is one of India's largest suppliers of the finest ductile iron and grey iron castings ranging from 0.5 Kg to 260 Kg in weight. Climbing its way up the ladder of competition, Nelcast's focus continues to be on meeting international standards of quality at competitive prices.

Given the exacting production processes and the distinct identities and attributes of the final product, the Company moved towards accordance with International Standards. In 1994, the Company was first recognized with the ISO 9002 certification. The year 2001 saw Nelcast and its commitment to quality approved and certified to QS 9000 standards. Nelcast's dedication to quality systems has again been acknowledged with the TS 16949 accreditation in 2005.
Nelcast has also been awarded with the ISO 14001 & ISO 18001 certifications in 2010 in recognition of its commitment to the Environment as well as Health & Safety.

Despite its high degree of documented certification, Nelcast continues to nourish its grass root principles of continually maintaining high standards of precision and quality. Nelcast currently supplies components to a wide spectrum of customers and is committed to satisfy the varying and diverse customer requirements. Having been accustomed to variety and challenges Nelcast is incessantly on the look out for even more exacting products.